Increased Risks for Hospital Patients with Dementia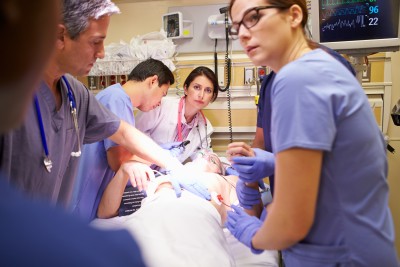 About one fourth of older hospital patients have dementia. These patients are at an outstandingly higher risk than other patients for:
Delirium
Falls
Dehydration
Poor Nutrition
Untreated Pain
Medication-related problems
Wandering
Agitated behavior
Because to the stress caused by acute illness and being in an unfamiliar setting, some older patients show signs of dementia for the first time in a hospital.
Delirium is a disturbance in mental abilities that results in confused thinking and reduced awareness of your environment. The start of delirium is usually rapid — within hours or a few days.
Delirium can often be traced to one or more contributing factors, such as a severe or chronic medical illness, changes in metabolic balance (such as low sodium), medication, infection, surgery, or alcohol or drug withdrawal.
Dementia is the leading risk factor for delirium. Patients with dementia are actually three to five times more likely than older adult patients to develop delirium in the hospital and two-thirds of delirium in hospitals occurs in patients with dementia.
These high risk adverse health events are rising at alarming rates as our aging population increases rapidly and hospitals are seeing more patients with dementia symptoms.
According to the Hartford Institute for Geriatric Nursing and the Alzheimer's Association, dementia should be considered a possibility in every hospital patient age 75 and over and can be present in younger patients as well. People with dementia usually come into a hospital for treatment of their other medical conditions, although some come in because of complications of their dementia. Of older people with dementia, 30% also have coronary artery disease; 28% congestive heart failure; 21% diabetes and 17% chronic obstructive pulmonary disease (COPD).
Doctors at Lutheran Medical Center in Denver, who serve the biggest senior population in the metro area, have made changes to help their older patients avoid the delirium diagnosis if they have no choice but to go the hospital.
They've essentially taken their traditional 42,000-square-foot emergency room and cut it in half, leaving one side equipped as a traditional ER, and turning the other half into a "Senior ER."
A big key is preventing the all-too-common side-effects of delirium. See a special ER for seniors, equipped with dozens of brilliant features, that speed comfort and care to this population.
http://www.alzheimersweekly.com/2017/05/emergency-room-paradise-heals-dementias.html
Bridging technology, smart design features, reduced noise and training staff to better communicate with patients and families, more hospitals will transition to dementia friendly healthcare communities. The "frightening" hospital experience for the growing population living with dementia may just be a thing of the past in a few years.
Pam Brandon is President/Founder of AGE-u-cate Training Institute. Their mission is developing and delivering cutting edge dementia education and training for health and long term care providers and others. #DementiaLive #CompassionateTouch