How to Prevent People in Nursing Homes from Becoming Invisible?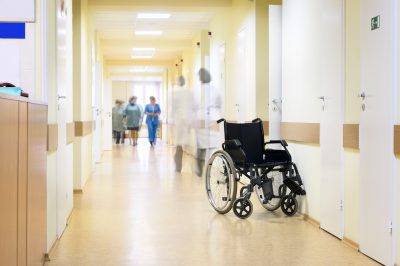 People living in nursing homes become "invisible" when they are regarded as feeble-minded and lacking in the ability to contribute to society in a meaningful way.
I once met a man named Frank, who lived in a skilled nursing facility, and his memory still haunts me. I noticed him because he wasn't particularly old, and he was tall and muscular. He was sitting in a corner in the hallway near the nurses' station. By his appearance, it seemed he had suffered a stroke. The following day I noticed Frank sitting in the same spot– for hours, just sitting there. He had no real interaction with anyone and pushed restlessly on the wheelchair footrests. He couldn't propel the wheelchair himself. Lots of people passed by, but no one paid him much mind. To me, he seemed lonely, frustrated, and, yes, invisible.
I felt drawn to offer him a Compassionate Touch. I pulled up a chair introducing myself. He immediately looked me in the eye. He had trouble with language, but he could, with effort, carry on a conversation. A Vietnam veteran, Frank grew up in Illinois. He believed his age to be 37, moreover, other signs of confusion were there, too. I held his stroke-affected hand. He was receptive to the touch. I gently rubbed his shoulders and back, and he told me it felt good.
At the end of our time together I asked him if he would like to sit somewhere else. He pointed to a spot about six feet away that was near a table, so, I maneuvered his wheelchair around so he could reach the table with his hands. He reached out took hold of a newspaper, and proceeded to read it. He engaged in something purposeful. The restlessness stopped. As I left, he said, "thank you for stopping."
Frank still haunts me. He likely sat in that same corner spot the next day, invisible again. So, how do we prevent people like Frank from becoming "invisible"? In closing, Alisoun Milne, a gerontology academic in the UK, tells us, "There is evidence that well-trained staff can build up relationships with residents that help to reduce reliance on medication and the need for acute medical care. Because the more you know about the person in that chair, the more likely you are to see them as rounded human beings, and the less risk there is of neglect."
Ann Catlin, OTR, LMT: For twenty years, Ann led in the field of skilled touch in eldercare and hospice. She has nearly forty years' clinical experience as an occupational and massage therapist. She created Age-u-cate's Compassionate Touch program and serves as a Master Trainer and training consultant.