Dementia-Friendly Faith Communities: Let's Get Started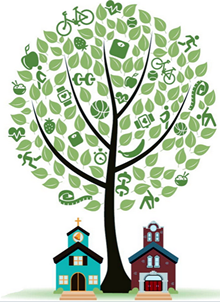 Many faith communities find themselves investing in worship experiences that will attract younger members. However, it is just as essential to keep older members engaged and attending worship services, including those with dementia.
Faith often plays a vital role in the lives of persons with dementia and their family members. But, the presence of dementia can greatly interfere with a person's ability to actively engage in their faith community.
Becoming a dementia-friendly congregation will create an open and welcoming environment for all. It is an initiative that can be embraced by all members, regardless of age. Faith communities are stronger when they recognize the value of multi-generational connection and interaction.
Dementia-Friendly Transformation
Church leaders can begin by calling upon professional community resources to educate congregational members about the needs of persons with dementia.
We should dispel notions that people with dementia are incapable of benefitting from worship. As a result, persons with dementia can be more easily understood and accepted with compassion and lack of judgment.
Recognizing when someone stops attending is a good first step. Leaving the house alone as the disease progresses is very overwhelming and leads to isolation. Mobilizing volunteers to reach out and offer transportation could help them hold on to their faith a little longer.
Start with Small Changes
Begin with simple changes to assist persons with dementia to better navigate their way around the church. Therefore, consider forming a group of volunteers, with specialized training, to serve as ambassadors to escort or sit with someone in need.
Create opportunities for purposeful engagement to keep them connected. Serving as a greeter, wiping down tables after fellowship, or telling a bible story in Sunday school may be a possibility.
Dementia-friendly worship is best when it is inclusive and engaging. In doing so, we help them stay close to God and honor the mothers and fathers of our faith.

Beth is a Certified Master Trainer with the AGE-u-cate Training Institute and a compassionate professional with decades of experience as a Registered Nurse, caregiver, patient advocate, educator, and trainer. Early in her career, Beth found her passion for working with elderly populations and their caregivers. Living in the Green Bay/Fox Valley area with her husband, she enjoys driving a ski boat for barefoot or slalom water-skiers, playing board games or creating a new quilt.
Julie has worked in Aging Services for over 30 years and has been a Licensed Nursing Home Administrator since 1990. She is a Certified Master Trainer with the AGE-u-cate Training Institute. Through her company Enlighten Eldercare, she provides training and educational programs on elder caregiving to private and professional caregivers. She is an instructor and the Interim Director of Gerontology at Northern Illinois University and lives in the Chicago Northwest Suburb of Mount Prospect, IL.