What Type of Training Most Supports Skill Building?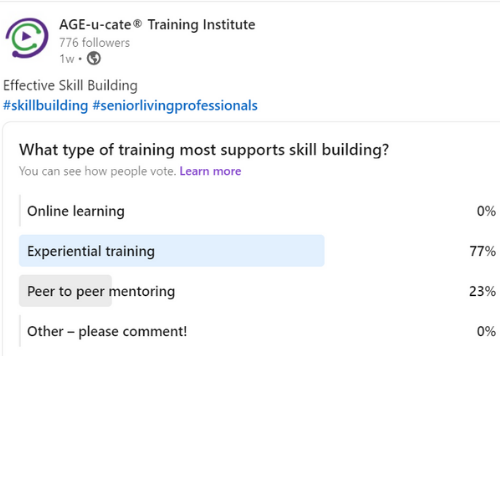 The team here at AGE-u-cate recently ran a poll on this very question. Of the following options, including online learning, experiential training, peer-to-peer mentoring, and "other". The clear winner was experiential training, coming in at 77%, followed by peer-to-peer mentoring at 23%.
Any surprise? Not for us! The evidence supporting experiential learning is consistently strong:
Develops deeper understanding

Enhances the capacity for critical thinking

Builds opportunities for reflective judgment

Strengthens the application of knowledge in complex or unclear situations

Reinforces the advancement of abilities that allow learners to effectively engage in problem-solving, critical thinking, and lifelong learning
So why, when Experiential Learning is a clear winner in aging services training, do we short-cut or eliminate this critical component? Understandably, the pandemic and the sudden impact and domino effect that rippled through the senior care space forced us quickly to shift and adapt as best we could. Unfortunately, staffing shortages that ensued and continue to haunt leaders are real and raw.
All that said, we must unwind the recent past, examine what we've done well, and get back to the basics of training that works. It's that simple.
There are complex issues surrounding staffing and moving forward in attracting and retaining a quality workforce. Sorting out the puzzle pieces looks daunting, but the one factor that providers have on their side that they can control is the delivery of effective training to their staff.
Experiential training that is easy to deliver and actually works in building critical skills to prepare staff for the work of providing quality care for those they serve is a worthwhile investment. Here are just a few of the immediate benefits you can expect from integrating experiential training sooner rather than later:
Employees will feel valued as important members of the organization

Staff will gain "soft skills" that are absolutely critical in quality care and most often overlooked in onboard training

Organizations benefit from employees who are valued, feel empowered in the work they do, and thus will experience a lower rate of turnover
What does quality experiential training encompass? The "aha" experience leads to empathy and compassion building, combined with skill-building in critical areas such as mastering communication techniques, understanding the aging person, preventing stress reactions, learning self-care to avoid burnout. Another bonus? Helping families, who are often overlooked as essential members of the care team.
There is no short-cut to quality training that will reap a domino effect of benefits to staff, families, and meeting the organization's mission and goals.
Quality, practical, experiential training will provide the support tools for peer-to-peer learning. Easy-to-use guides for leaders aid in the integration of peer learning teams which further enhance the benefits of any teaching. It builds solid teams and encourages staff to learn from each other by sharing challenges and finding solutions.
Find out how your organization can jump into Experiential Training today!