Teamwork Makes the Dream Work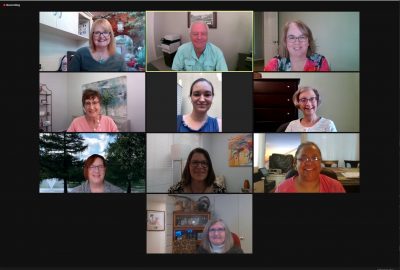 AGE-u-cate Training Institute is a team that works together to create real change in elder care. Each person is integral to the mission of the organization with their unique knowledge and talents. We recently asked our team a simple question – Why ATI?
Ann Catlin, Training & Education Consultant/ creator of Compassionate Touch®- Six years ago, Pam and I convened in Tulsa to explore how we might work together. We shared a desire to uplift elders in assisted environments by elevating care-providers' skills—and Pam had a vision of how to make that happen. I'm proud that the program I developed, Compassionate Touch®, now lives with AGE-u-cate, and I'm delighted to be a part of an enormously talented team, as together we create positive change.
Heidi Benard, Client Success Advisor - Passion is just one of the many reasons I joined this team! When I came across Age-u-cate over 2 years ago, something inside of me knew I needed to learn more. Being an educator myself, and having firsthand experience with both in-laws with dementia, I felt like I had been directed to "the right place". Now, I am honored and privileged to be a "smiling teammate" of this amazing and talented group. Passion drives...empathy connects...and Age-u-cate delivers amazing programs.
John Brandon, Information Technology & Video Production - I love working for AGE-u-cate because it gives me the ability to be truly creative and responsive to the needs of others within the company.
Julie Boggess, Director of CMP and Consulting Projects - Through a string of unplanned and unexpected encounters, I was introduced to AGE-u-cate Training Institute. I learned about their educational programs, met the people, and the deal was sealed for me. Working for a company where I can apply my 30 years of Aging Services experience means everything. We are all encouraged to be creative, share ideas and work together to build educational programs that get at the heart of caring for older adults. Working for ATI fulfills my longing to be a part of transforming how we care for older adults, and that begins with relevant and impactful education that changes attitudes and actions. I've found my encore career, and I could not feel more thankful.
Kathy Stevens, Accounting and Finance - I love working with such an amazing group of people! It's so nice to be around people that are truly passionate about their work. I am a better person because of my AGE-u-cate family!
Mary Petersen, Director of Client Engagement - The corporate philosophy at AGE-u-cate aligns with my belief that customers are not just customers, but partners. I admire and respect the people I work with. We all share the same goal, to create an environment that fosters creativity for the development of motivational dementia education programs.
Michelle Terry, Marketing Manager - At AGE-u-cate I have the opportunity to work alongside a passionate, empathetic and intelligent team and live out a marketer's dream - represent quality programs that truly make a difference and that I am passionate about.
Pam Brandon, President/Founder, AGE-u-cate Training Institute - It is an honor and privilege to work alongside such outstanding individuals who share a passion to make a positive difference in the world. We've accomplished so much together, and we have so much more to do – it's all very exciting!
Tammy Craig, Training Operations - I am grateful to be a part of a family (AGE-u-cate) that is genuinely passionate about helping the aged care community. It was evident from the beginning that empathy and care are driving forces behind creating programs to enhance the lives of care partners and the people who they care for.
V'Ann Giuffre, Senior Vice President Growth and Operations - ATI has brought together a group of professionals with individual knowledge and experience who share a desire to make a difference in our world. Being part of a company from its early days and watching it grow and develop has been a fantastic experience. I am continually intellectually challenged, pushed from my comfort zone, encouraged to grow professionally and learning from each member of this dynamic team.
Learn more about these professionals here.
Written by V'Ann Giuffre, VP Operations, AGE-u-cate.
V'Ann has been an education specialist in school, business and conference settings for over 20 years. She finds great satisfaction in making learning come alive for people, whether aged 3 or 93. She brings her energized teaching style to her role as Master Trainer for Dementia Live™ and Compassionate Touch® and is a Certified Ageless Grace™ Educator. As AGE-u-cate's Vice President of Operations, V'Ann keeps the balls in the air, juggling logistical details. Born and raised in rural Central Texas, V'Ann now lives in Fort Worth.