No Surprise- The Top Educational Priority for Aging Services Providers is...
In an effort to learn about the educational priorities for Aging Services providers, AGE-u-cate® conducted a survey and asked respondents to identify topics most important for staff. Fifty percent (50%) of respondents represented the nursing home industry, and the remainder was a combination of other sectors and professionals that serve the industry. Sixteen topics were offered, and 63% of the respondents selected "Preventing Caregiver Burnout" as most important.
One survey respondent shared,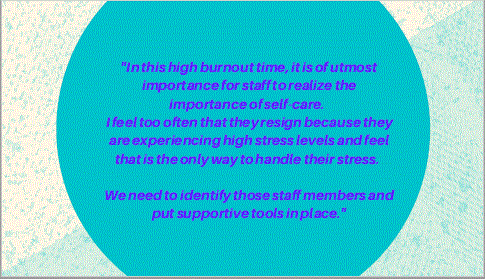 The American Medical Association urges leaders to "strive to maintain critical infrastructure and have support in place for staff during this time, knowing that this may require modifications to existing strategies, tactics and roles." An imperative strategy is to educate staff on the signs of chronic stress and how to intentionally employ coping strategies.
Look no further for an excellent and affordable resource to educate your staff about caregiver burnout. Reach out to Laura Ellen via the link below to receive complimentary access to AGE-u-cate's REVEAL Aging one-hour device-enabled course "Preventing Caregiver Burnout."
Your feedback on the need for additional topics is invaluable as AGE-u-cate continues to plan for future courses. Follow this QR code to participate in our 4 question survey. Thank you!