Ageism - Putting on the Brakes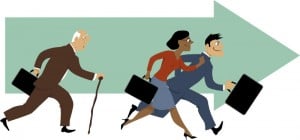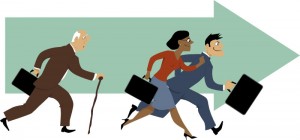 Ageism is defined as prejudice or discrimination on the basis of someone's age. Civic and business leaders across the globe are accelerating "age friendly - dementia friendly" initiatives. The explosive growth of worldwide population marching quickly toward old age is forcing change in virtually every area of society. Cities are redesigning transporation systems, public centers and revamping outdated services. At the same time, business leaders are turning toward experts to achieve productive workplace teams made up of 4 or 5 generations. Health and long term care is turning toward technology and how to train and retain the workforce needed to provide services for today's elders that at a growing clip will be among the largest oldest group we have ever witnessed - centenarians.
Those of us in the "business of aging", I believe are always a bit more keen to the world around us. Rarely does a trip to the grocery store or local retail shop not remind me that we have long way to go in turning the tide of understanding and respect for our senior individuals. From impatient check-out clerks to hurried shoppers, I witness a lack of understanding and empathy for older members of our society.
We can make our public transit age friendly, add more amenities to our public parks, hire consultants to promote our cities and businesses as "Age Friendly". Until we teach and prepare our young people, middle age workers and "young seniors" what it means to show kindess, patience and respect for older adults, I do not believe we will see intrinsic change take place.
We must change how we THINK, FEEL and ACT. This begins with understanding what it's like to age! I love this "business of aging". It's not only immensely rewarding to train and educate others and then witness the affects of positive change but it also allows us to uncover growing areas of need in which our AGE-u-cate team can creatively look at how we can provide solutions to ever-growing needs.
My hope is that one day Ageism won't be found on Widepedia.