A Special Grandparent's Day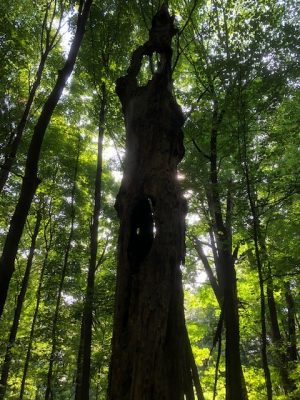 You might be wondering why a picture of an old tree? This tree caught my attention while on a walk through a nearby forest preserve. I studied its shape, holes, splinters, and ragged edges. I didn't know then why it captivated me so, but it did.
This tree, such as it is, a shell of itself from long ago still stands. How miraculous is this? Despite the trauma over the years, damaging winds, hail, heavy snow and ice, it still stands. Indeed, time is stamped on this tree, and its roots are weaker and deteriorated. But it stands proudly, majestically demonstrating its resilience and strength.
I'll call her Matilda (my grandmother's name). Imagine the experiences she lived through and the stories she could tell. If only we had the opportunity to learn from this wise old oak. I would love to know what this forest preserve was like 50 or maybe even 100 years ago.
I speculate that sometimes Matilda had to dig deep for water and call on strength to brace against the hard times. But, she also got to bask in the glory of the nourishing sun and gentle rains and was probably thankful for the good times. Her wisdom is unmatched in the forest, I am sure.
Matilda likely housed many critters over the years and created a safe space for them to call home. How many different species did she encounter over time? Insects, rodents, mammals, birds, canines felines, all in various sizes, shapes, and colors. Some may have taken advantage of her, but hopefully, most treated her with kindness and respect.
A Little Extra for Grandparents Day
This tree personifies grandparents for me, and that's why I admire it so much. I think it is true that you don't know what you had until it is gone. Three of my grandparents didn't see me graduate from high school, and the last, my grandfather, died when my daughter was six years old. She has only a faint memory of him.
It's not too late to extend Grandparent's day. I know I would if I could.
I attribute my love for working with and advocating for the welfare of older adults to the loving relationship I had with both sets of grandparents. The memories I have of them all fill my heart with that longing to have just one more conversation.
Grandparents deserve to be celebrated! Congress had this right in 1978 when Jimmy Carter signed the proclamation.
If you have the good fortune to have a living grandparent, learn all you can from your beautiful, wise tree.
Julie has worked in Aging Services for over 30 years and has been a Licensed Nursing Home Administrator since 1990. She is a Certified Master Trainer with the AGE-u-cate Training Institute. Through her company Enlighten Eldercare, Julie provides training and educational programs on elder caregiving for family and professional caregivers. She is an instructor and the Interim Director of Gerontology at Northern Illinois University and lives in the Chicago Northwest Suburb of Mount Prospect, IL.