Senior Care - How Our Pets Teach Us Life Lessons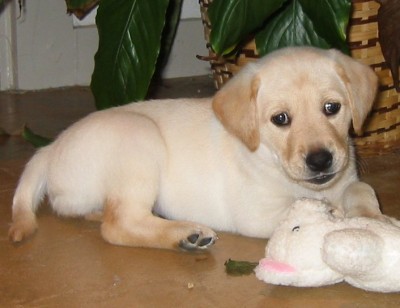 How Losing A Pet Is Much Like Losing a Loved One
Our pets are like members of the family. Meet Sadie - our vivacious, furry family member pictured here at 3 months old. Labrador Retrievers at this age are a non-stop ball of energy. Leave a sock on the floor and it instantly becomes a pile of thread, or a new game of hide and seek. Strangers? I don't think Sadie ever knew that word existed. Water? That's meant for swimming.. endlessly.
Sadie was, as my son described her, the MVP of campers. In fact, our treasured family camping trips centered around Sadie. Will there be a lake or hiking trails? And Sadie always chose where and with whom she wanted to sleep at any given time. Since our activities centered around what Sadie would enjoy, it made things easy. She loved EVERYTHING about camping, especially being with us and meeting new friends. Sadie would always introduce herself to our camping neighbors. She would sometimes wander off to explore new trails, strange critters, and/or new scents but she always came back to her family because she loved us and she knew she was the queen bee.
Saying good-bye to Sadie
With the whole family present and a lot of tears, we had to have Sadie laid to rest last week. At over 14, she was in ill health; despite pain medications and other palliative measures, it was clear that every day was a struggle for her to get around. And while she couldn't tell us what parts of her body were failing her, we could sense growing discomfort and complications taking place. Up to the very last second of her life, Sadie never stopped pouring out her boundless love and certainly relished the affection and trust we shared. Our relationship over the years was a bond that encircled our lives. Even as our children grew up and left home, that bond would be rekindled in an instant with Sadie when they came home to visit.
How pets teach us about life
Pets are soulful creatures that teach us about the importance of trusting relationships, comfort, touch, playfulness, love of nature and so much more. These traits never left Sadie.. not even when she was at the end of life. These intact abilities remain for us humans as we age. There are many good websites that deal with the loss of a beloved pet. Here is a good blog that deals with pet grieving. It talks about pets in a very human way.