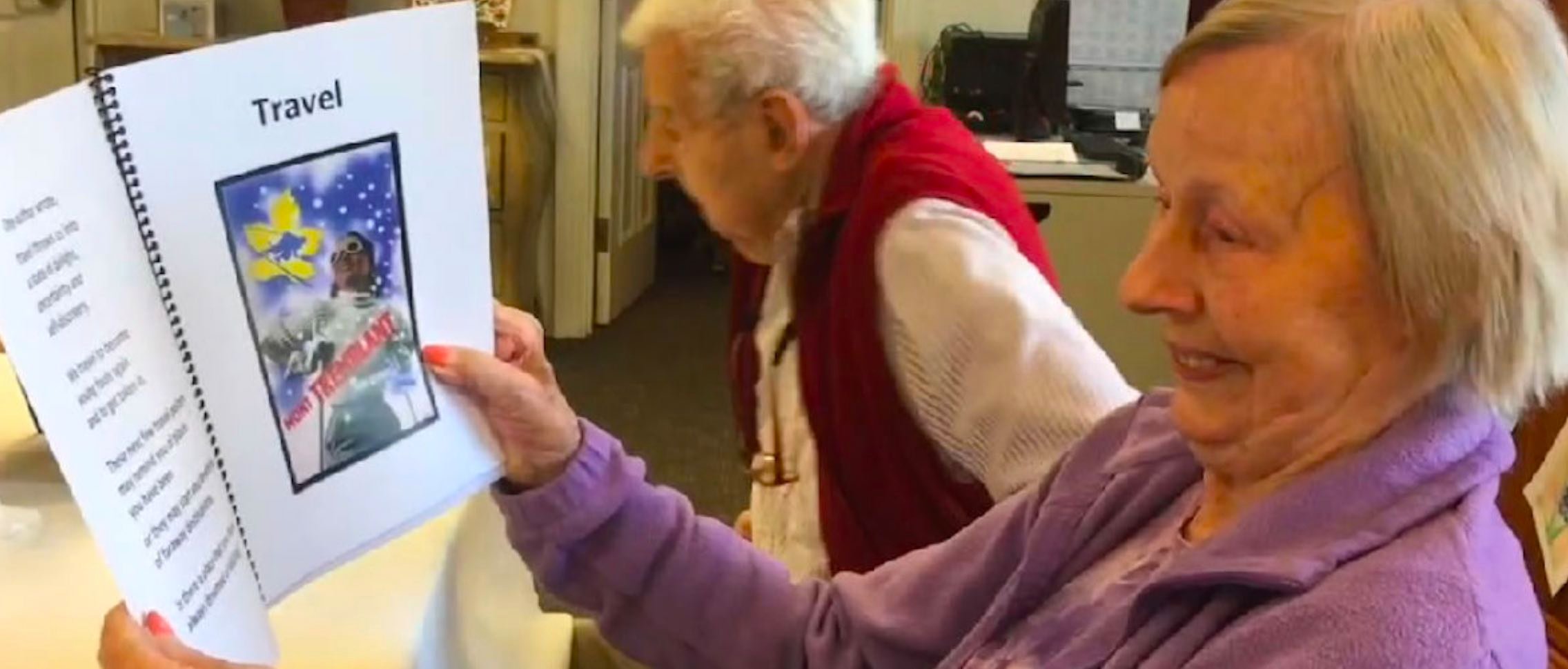 This is something that should not have come as a surprise to me, but it did. Persons living with dementia, even in the mid to later stages, can call upon their long term memory and actually read! Not only can they read, they can enjoy themselves!
It turns out that I was partially correct, in that people with dementia are unable to read text dense, visually overwhelming materials. I think back to my early days working in the nursing home when we would place a National Geographic magazine or USA Today Newspaper in front a person with dementia thinking that would keep them busy and engaged. Sheesh.
Created by Susan Ostrowski, MA, MS, CCC-SLP, Reading2Connect® is a life enrichment program centered on books adapted for adults living with dementia. The R2C® strengths-based program enables a higher level of wellbeing through reading independently, expressing individuality, recalling pasts, sharing humor, and emotionally connecting with peers, family, and caregivers.

This works because reading is a skill that is generally preserved and intact in the procedural memory of an elderly person. Like brushing teeth or using a spoon, the ability to read is automatic and often remains to some degree functional even in the later stages of dementia.
Bring Back The Joy of Reading
The Barrington Area Council on Aging (BACOA), located in Barrington Illinois, recently integrated Reading2Connect® with the members of their Adult Day Program. This testimonial put a smile on all of our faces: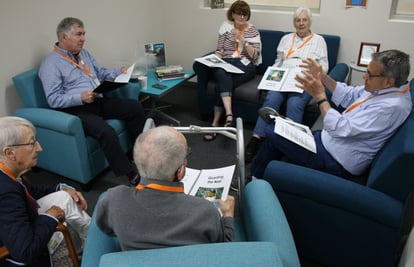 "Our Adult Day Program members look forward to our Reading2Connect sessions. The highly readable print with the accompanying photos allows everyone to connect in their own way. The wide variety of themes help evoke conversation. I observe intimate connections, social engagement and expressive language within the group members".

Pam Pellizzari, CDP
Memory Programs Manager
BACOA
Reading2Connect® is a perfect program for Area Agencies on Aging searching for innovative ways to reach isolated elders living with dementia. Memory and Nursing Care Communities and Adult Day Programs can make life enrichment programming stand out with Reading2Connect®!
Learn more today!